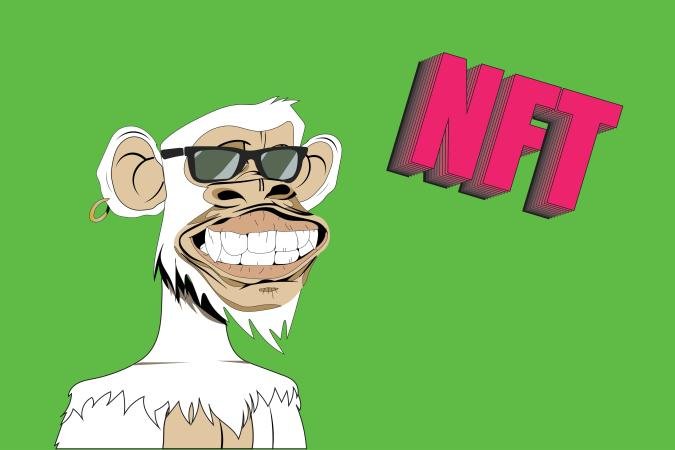 Why should you be interested in NFTs and e-commerce?
The world has drastically altered, there was a pandemic, and we spent a lot of time confined to our homes.
Fortunately, despite the challenges, there was a tool that allowed us to stay in touch: the Internet.
The future was perfectly illustrated by the fact that we were all working from home, shopping online, and attending virtual parties.
Our culture changes with time, just like every animal does when faced with a challenge. The Internet, the Metaverse, NFTs, and Blockchain are currently being explored by humans who are evolving since they are the tools that we will use to evolve.
Lockdowns became the new normal as companies and customers "went digital," offering and acquiring more goods and services online, driving up revenues by 50.5% from 2019 to this point. The trading volume of NFTs increased similarly, by 21,100%, to more than $17 billion in 2021.
Find out how we can combine these two expanding industries so that we are prepared for the future.
Bad actors that want to gain value at the cost of common cryptocurrency users also enter the metaverse as more money pours into it.
We work for the majority of our life, therefore we shouldn't be inclined to spend everything we have attempting to make more money, right? Let's discuss the typical scams and how to avoid them.
What is an NFT?
In essence, an NFT is a special digital file.Since they enable the sale of digital property, NFT is a technology that can be used to determine who is the owner of anything, especially digital assets. They are created on the blockchain and continue to exist within the decentralised ecosystem.
Although NFTs are mostly utilized for art and digital collectibles, we will see a wide range of other applications for them in the future, starting with NFTs & e-commerce today.
Being on the blockchain has many benefits, including the ability to view specific data that can be crucial when purchasing a collectible, such as the previous transactions of that NFT and their associated pricing.
We could go into more detail and describe what an NFT is, what it needs to contain to be a true NFT, and what NFTs are used for, but that is not the focus of this post.
You should know that NFTs are the representation of something (often something digital) that is stored on the blockchain since it is more secure and allows for the potential of utilizing their capabilities before continuing to read.
If you want to construct an NFT marketplace, think about working with an NFT Marketplace Development company that has a team of developers who are knowledgeable with the technical and operational needs.
How might NFTs benefit the e-commerce sector?
1. Reduce Customer Lifetime Value
Each and every eCommerce brand strives to build customer loyalty. eCommerce businesses can incorporate NFTs into their products to draw in more clients. These NFTs might open the door to incentives and unique advantages. Additionally, they may give customers early and exclusive access to new products, discounts, deals, features, and other items. Finding a buyer for NFT can be a little more expensive than doing so for a T-shirt, which is much easier to do. However, assuming the risk is worthwhile, there is a good probability that the NFT buyer will boost your company's value.
2. Verifying the authenticity of the product
Because NFTs are built on the Blockchain, they are distinct, unchangeable, and—more importantly—trackable.
An essential necessity for a multi-tiered, multi-site manufacturing is traceability. It promotes visibility and satisfies consumer demands for guarantee of transparency and quality.
A system to create technology-based trust among supply chain participants is proposed in a case study of the textile and apparel industry, but it may be applied to any business as well. The distributed ledger (blockchain) can be used to store and validate supply chain transactions.
3. Inventory Control
As NFTs are assets that can be uniquely identified, controlling data storage and inventory is made easier. Every time a new transaction occurs, inventories are instantly updated. The network's affiliates can track missing assets and promptly replenish stockpiles.
Yes, this is the blockchain's power.
4. Record of Authenticated Transactions
As previously mentioned, the transactions that take place to authenticate an NFT before transferring it to an owner may also be viewable on the relevant blockchain. This implies that you can typically identify the NFT's origin. This allows everyone—especially buyers—a reliable way to validate the legitimacy of an NFT and learn more about its prior owners.
This sets it apart from conventional funds transfer or asset transfer agreements, where a buyer frequently has access to only the information that the seller desires them to view. With an NFT, the property's complete history is transparent, enabling the most recent buyer to determine whether the property has previously changed hands without their knowledge.
Alfa Romeo is innovating with an immutable, decentralised technology that can record a vehicle's data and issue it as an NFT to certify its condition because they are completely aware of this concept.
5. Value-added rewards schemes
No retailers are avoiding the loyalty programme battle in the competitive eCommerce market in order to retain consumers and raise LTV. However, despite the large number of people signing up, only about 40% of consumers choose to participate in loyalty programmes because they believe they are undervalued, according to RetailWire.
Pricing wars have the drawback of only temporarily gaining customers; as soon as they discover other businesses with lower costs, they will depart without hesitation. Therefore, you should invest in adding distinctive and true value if you want to succeed in the long run.
NFT memorabilia is the ideal thing to fill up the space here. NFTs offer something that is genuinely at the basis of consumer insight: scarcity, as opposed to simply allowing customers to use their points to purchase items that many other customers can also access. Customers can only find NFTs in these completely exclusive offerings. This fosters exclusivity, which enhances the value of your programme by extending it beyond purely financial transactions.
6. Create an electronic representation
The majority of physical goods, particularly those made for luxury consumers, are non-fungible. They cannot therefore be simply swapped out.
Because NFTs are non-fungible as well, some individuals are beginning to associate them with actual physical objects.
NFTs are typically attached to physical objects with the primary goal of digitally confirming the asset's validity. It makes it possible for users to maintain track of the information related to the object using blockchain technology.
Also Read: How To Create An NFT Minting Website
NFTs connected are the computerised future of this because the collectibles industry is very meticulous about editions, past purchases, originals, and fraudulent copies, among other things. Additionally, since the blockchain is decentralised and unchangeable, no one can alter any data, enabling consumers to get critical information without being duped.
7. Engage fresh audiences
As it demonstrates that the company is up to date with current trends and speaks the same language as the existing and new fans, the launch of an NFT can enhance a brand's reputation among its present customer base while also drawing a whole new generation of audiences (especially the highly desirable vibrant, trend-setting Gen Z and young millennial consumers). By utilising these lively communities, branded projects can gain credibility and become known as a force to be reckoned with in the modern era, increasing their effectiveness in reaching their intended consumers.
Exclusiveness Sign
The concept of exclusivity used by NFTs is another important benefit. Instead of waving certificates of authenticity from the producers, buyers of specific NFTs of rare artefacts may point viewers to a digital signature to emphasise how unique or special the commodity may be.
This feeling of exclusivity can be especially helpful when buyers want to add to or grow their collection while keeping in mind the stories behind each item. When selling gems or valuable products, this can be very effective because the exclusivity makes the buyer value the purchase much more than they would have otherwise. This is especially true for one-of-a-kind gifts or custom-made pieces of art, when the buyer might want a written record of the specific purchase they made.
8. Genuine brands that use NFTs
Do your study on NFTs because there are many different brands there.
● Coca-Cola
● Samsung
● Asics
● MAC Cosmetics
● Anheuser-Busch
● Stella Artois
● Acura
● Dolce Gabanna
● Blue Diamond
● Grammy Awards
● Duke University
● Ray-Ban
● Clinique
● Taco Bell
● Hot Wheels
● Gucci
NFTs, e-commerce, and the metaverse?
The biggest businesses today were built on ecommerce, which is one of the largest industries today. This sector of the economy has altered consumer purchasing behaviours and will do so in the future.
Similar to this, NFTs attempt to reinvent both the idea of ownership and the way that goods are consumed.
Aspiring e-commerce businesses might take advantage of the exciting NFT industry to further their objectives. "By integrating NFTs and eCommerce, you can correlate the brands' experience with a sense of product scarcity to generate a high-level economic value," says Thao Pham.
Although the majority of the uses for NFTs are in digital art or collectibles, the term "NFT" may start to appear everywhere in the near future. If you want to get started right away, you could create a collection centred around these issues, but if you are motivated to disrupt the market, you could also enter a void and tie it to NFTs being the leading brand there.
About Post Author