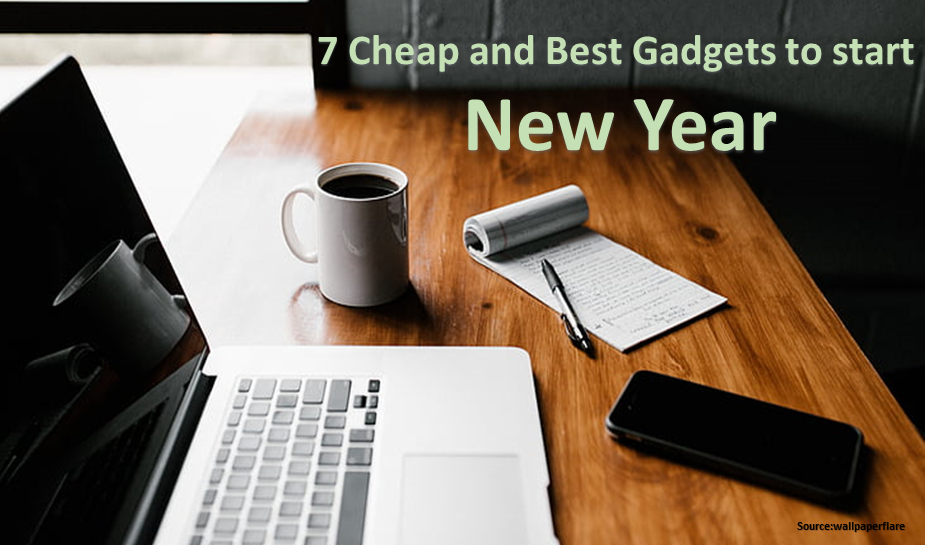 This year begins and the market is full of electronic devices to start it off superbly, from wearables to wireless headsets. To help you navigate the middle of this true ocean of products, we have made this guide with some of the best gadgets to start 2020 optimally.
Whether you're looking for a portable speaker, a smartwatch, a cell phone with better features, or an e-book reader, you'll find it here!
Smart watch
It is not only a product that combines well with any style. The smartwatches open a lot of possibilities in order for users to carry a healthier lifestyle, from monitoring various physical activities to record sleep.
It does not mean that smart watches are not cross-platform, but if you have an iPhone, it is best to opt for an Apple Watch ; if you have a Galaxy cell phone, the Galaxy Watch ; if you own a Mate, a Watch GT . Yes, it is true: the budget issue is also important to choose, although the good news is that the price range is expanding more and more.
Smartband
As with smartwatches , there are smart bracelets for all needs, such as the Xiaomi Mi Band 4 (for less than $ 40 dollars) and the Galaxy Fit ( $ 80 dollars).
These types of gadgets are presented as a good option for those who are looking to start a more active lifestyle with a simple and more affordable product. Again, choosing will depend on the budget and the experience you have with a certain brand, mainly.
Smartphone with better features
The high range of cell phones is well defined by families such as iPhone 11 , Galaxy S10 and Galaxy Note 10 , Mate 30 and P30 , OnePlus 7 and Pixel 4 . In this sense, the best mobile experience is guaranteed with practically any member of these series, due to the fact that they integrate the latest technology from Apple, Samsung, Huawei, OnePlus and Google, respectively.
Regarding the mid-range, it is a bit more complex to define, since it is the broadest in terms of members, prices and features, even some cell phones here can be confused in the high-end. Worthy examples are Moto G8 Plus , Motorola One Hyper , Xiaomi Mi 9T, Google Pixel 3a , Nokia 7.2 and Galaxy A70.
What is evident, especially in the mid-range, is that you can get an excellent smartphone with the best balance between cost and benefit.
Also Read:  Motorola Moto G8 Plus vs Motorola One Zoom
Wireless headphones
Advanced wireless in-ear headphones with advanced specs such as noise cancellation and comfortable designs to be worn without discomfort are already a reality on the market , with exponents like AirPods Pro, Huawei Freebuds 3, Samsung Galaxy Buds and Amazon Echo Buds.
For those who have never used this type of headphones, there is only one thing to say: nothing compares to the fact of having no cables and having quality sound direct to the ears, that is, the musical experience rises.
Smart horn
For those looking for a more connected environment, considering a smart speaker is a natural step, and the good news is that you can get some good options for a few bucks, like the Echo Dot and Google Nest Mini .
This type of gadgets interconnects with others, making it possible to control multimedia playback on television, lights and air conditioning, as well as having answers and information on all kinds of topics, with simple voice commands. By the way, for Apple users, there is the HomePod .
Monitor as second screen
Users have found on the laptop the equipment to take their tasks almost anywhere, but there are spaces to which they return again and again to work, such as home or office, so consider a monitor as a " second screen "Is an excellent idea.
Size, resolution, refresh rate, and inputs and ports are some of the features to consider when choosing the best one for each user. Once you work with an extra monitor, you will surely notice an improvement in productivity.
EBook reader
Beyond the debate on whether physical books are better than electronic books, the important thing is to make reading a habit , which opens the door to all kinds of worlds, according to the literary preferences of each user.
Regarding e-readers, you can now find some with top-quality, even waterproof displays, plus the advantage that their battery offers weeks of performance, to please the most voracious fans of books.
In addition to Amazon having endless proposals through its Kindle line , it offers the advantage of accessing its store with works of all genres, both in English and Spanish.
Portable hard drive
With the possibility that each user can be, more than ever, a content generator with the help of their cell phone and action cameras, it becomes necessary to have storage media to backup from photos to videos.
The portable hard drives have the advantage that they are easy to configure and cross – platform, so that in a few minutes you can access a repository to store and manage all types of information regardless of whether Windows user or Mac are. Seagate, Western Digital and SanDisk have interesting proposals in this regard.
Portable battery
In the backpack or even as part of the user's clothing, different electronics are carried, and sometimes it is difficult to recharge them the night before, so a portable battery that can also be transported without problem will always be a good investment.
In addition to opting for one from a recognized manufacturer, such as Anker, Samsung or TP-Link, its capacity in mAh must be considered (the more extensive, the more possibility to charge the cell phone or the wireless headphones more times).
About Post Author