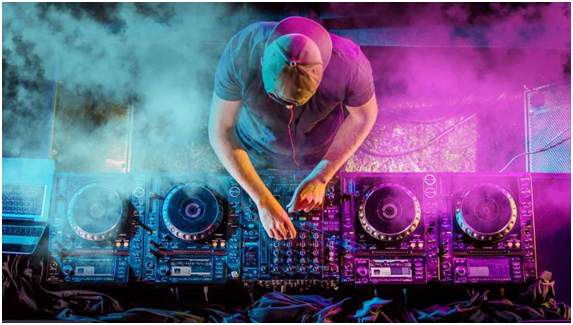 When was the last time you went to an event that did not have a musical background? Or do you recall a party that did not have a DJ mixing tunes for you to groove on?
Probably not!
Whether it is a birthday party or wedding event, an official conference or a business success party, a school charity event, or even a theatre performance, you can't have the best of them without background score and music.
To create high-quality sound effects, you don't necessarily have to spend thousands of dollars on purchasing DJ equipment when the same equipment is available on rent. Equipment rental is an inexpensive way to create an event worth remembering without incurring heavy expenditure on high-end equipment. It also gives you total control of the music being played in your event.
What DJ equipment are essential?
There is a long list of rental equipment available in the market with various brands and models, leaving you confused as to what should be the best choice for your event. Let's just get to know the basic DJ equipment rental you will need to run a successful event.
For a starter, the essential equipment will be a sound mixer, microphone and speakers, a suitable pair of headphones, and of course a laptop with a DJ-ing software.
Are you thinking about transforming your living space into a vibrant dance floor with a home DJ setup?
Check out
djequipmentinfo.com
for their 
comprehensive guide on a home dj setup.
 Behind every great DJ is their equipment, and at the heart is the
DJ's best friend – the DJ Controller.
  You will have this at your fingertips to effortlessly blend genres, drop addictive basslines, and build up energy like never before. Get ready to bring the house down and become the ultimate party maestro.
Cost of Basics Equipment
The most important DJ equipment is an audio mixer that helps to keep in check the volume of the tracks played. A DJ mixer should have at least two channels and a microphone insertion option. The mixer should cost you $125 to $250 per day, which is quite reasonable if you compare it with the amount you will have to pay outright for the same audio mixer.
The second most important thing is the speakers. Go for speakers that have inbuilt amplifiers to create the desirable sound effect. Make sure you chose the best speakers around, after all, they will do the talking. The rentals charges for a single speaker starts at $45 and goes up to $100 per day.
A reasonable wireless microphone kit should cost $60 per day.
Another important basic DJ equipment is the headphone. Your normal phone headphones will not do the job here. Good coverage headphones will make it easier to listen to the music that is played on the speaker. Rental stores will provide you with suitable headphones for around $35, plus-minus.
Nearly all the latest laptops these days come with the software used for mixing, but mostly DJs prefer Macbooks because they crash less and have adequate audio, making it a more reliable option. You must check if your laptop is suitable for DJ-ing otherwise, you can always opt to rent one.
Add That Zing to Your Event!
Lighting is also essential to create the right ambiance for your event. You must know what kind of light affects you want to create in your event. You have a variety to choose from: Derby effect, wash, strobe, GOBO, and laser, to name a few.
A combination of these basic equipment has the potential to turn a dry and boring event into a lively and cheerful one.
What Affects The Cost Of DJ Rentals?
The cost of the DJ equipment rental also depends on several other factors; the first being how big your event is. Obviously, the bigger the event, the more people will attend it, and you will need more audio and sound support system.
Not only the size of the event, but the age of the equipment also plays a part in determining the cost of the rentals. A piece of equipment that is old will cost less than a new one. This is why different music equipment providers quote a different price of the same sound or video equipment.
A superstore speaker will not give the same audio result as a speaker that is of a high-end brand. This means that brands also play a vital role in determining the cost of DJ equipment rentals. Lastly, the cost of DJ equipment rentals will be higher in larger markets in larger cities as compared to smaller markets in smaller cities.
Also, at a different time of the year the cost of the rental will be different for example, around New Year, the cost of equipment rental will increase as compared to any other time of the year.
Thus, the cost of DJ equipment rental may differ depending on your location and the markets around you.
Buy or Rent?
The cost-effectiveness of the DJ equipment rentals is not hidden. Most rental firms offer services of DJ also, and you can also book your appointment with an expert who will take you through different equipment and help you decide the best suitable for your event without having you overspend on your event.
So whenever you plan an event next, make sure you rent the audio and video equipment to create a lasting impression without going bankrupt.
After all, what party is complete without music?
About Post Author