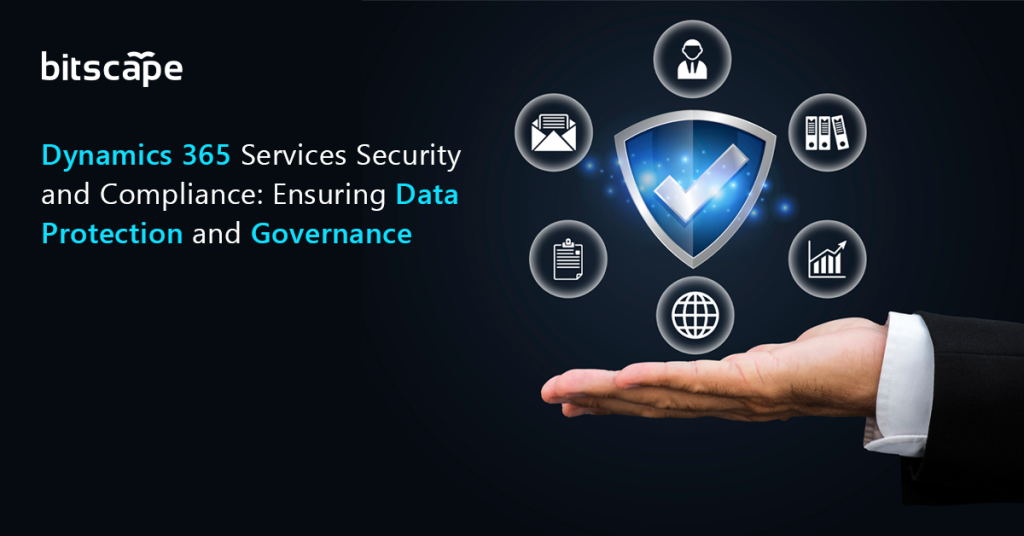 In this modern technological era, we regularly see data breaches and privacy concerns becoming a norm. Hence, it becomes imperative for businesses to protect sensitive information. This is where Dynamics 365 Services comes into the picture.
Dynamics 365 Services provides an all-inclusive package of smart business applications and portals. It provides enhanced security and compliance features that help protect your data from theft.
In the forthcoming sections of this write-up, we will look at the different ways Dynamics 365 Services security and compliance works. We will also look at how it aids organizations to protect their valued data.
Decoding Dynamics 365 Services Security
The good thing about Dynamics 365 Services is that it is developed with a strong emphasis on security. It provides necessary tools for organizations to protect their data from potential theft.
Thanks to role-based access control, businesses can define and manage user roles. This assures that only individuals with proper authentication have access to specific data.
On top of this, multi-factor authentication adds an added layer of security. This is where users must verify themselves via multiple channels before getting into the system. Data encryption and protection are two major components that make Dynamics 365 Services security more lethal.
With the help of this platform, organizations can utilize industry-standard encryption protocols to safeguard data. Hence, even when the data is intercepted, it remains scribbled and useless for unauthorized individuals.
Relevance of Compliance with Data Protection Regulations
Dynamics 365 Services comprehends the relevance of compliance with data protection regulations like GDPR.
With the help of this platform, organizations can use features that meet the requirements of GDPR. This includes data requiring rights and consent, executing data retention and ensuring policies, and incorporating privacy by design and default principles into their processes.
On top of GDPR compliance, organizations can use Dynamics 365 Services to meet industry-specific regulations. A prime example of that is, healthcare providers can utilize the capabilities of the platform to comply with HIPAA, a law that protects the information of patients from security and privacy breach.
On top of this, businesses operating in California can abide by the California Consumer Privacy Act with the assistance of the all-inclusive data protection features of Dynamics 365 Services.
In case your organization comes under the Sarbanes-Oxley Act, it can utilize the controls of the platform to address the financial data compliance requirements.
The Data Governance Feature in Dynamics 365 Services
In the digital era we live in, organizations need to observe data governance. The reason is, it assists in maintaining data integrity, enforcing policies, and complying with regulatory requirements.
Thanks to Dynamics 365 Services, organizations can utilize powerful data governance capabilities to ensure that their data is kept hidden and protected throughout its lifecycle.
The data classification and categorization feature in Dynamics 365 Services helps organizations keep sensitive and critical data accessible to restricted people within the system. This feature helps in minimizing the risk of unauthorized access and data breaches.
You also get data lifecycle management in Dynamics 365 Services which is crucial for data governance. Organizations nowadays use such features like data archival and retention to store data for a specific period while making sure that it can be accessed without much hassle whenever required.
Just like in Mission Impossible series, you can also set secure data disposal and destruction protocols to ensure that your data gets disposed of when it is no longer needed. This eliminates the risk of accidental data exposure to a third party.
Frequently Asked Questions (FAQs)
1. Which of the features present in Dynamics 365 Services protect against data breaches?
Dynamics 365 Services consists of a comprehensive list of security features like MFA, RBAC, and data encryption that protect your organization from unauthorized access and data breaches. Thanks to the regular observing and auditing of user activities, it is possible to determine potential security risks which can be removed with timely action.
2. How can Dynamics 365 Services aid organizations in complying with industry-specific compliance requirements?
Dynamics 365 Services consists of features such as GDPR, HIPAA, CCPA, SOX, etc. that enable organizations to meet industry-specific compliance requirements.
3. Through which activities do Dynamics 365 Services handle data residency and cross-border data transfers?
When organizations opt for a geographic region where the data will be stored using Dynamics 365 Services, it enables them to comply with data residency requirements. Furthermore, this amazing platform also comprises secure mechanisms that enable cross-border data transfers complying with the applicable data protection laws and regulations.
Conclusion
Data protection and governance are two major factors that businesses count on in the digital era. Both these features are a part of Dynamics 365 Services enabling organizations to protect their data in an efficient manner.
About Post Author