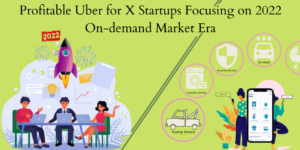 On-demand business apps today have a huge part in almost all people's day-to-day life worldwide. The digitalized platform converts traditional workflows of several industries into smart approaches. And, captivates energetic entrepreneurs in modern times for startups. Following this, we will discuss Uber for X in this blog. The readymade app script has now become so famous among them in their businesses.
What is Uber for X In On-demand Startups?
Uber for X is a pre-made app source that possesses enhanced in-built options relevant to the latest market evolutions. As the word "X" refers to, the innovative app script could be used to make different industry on-demand business apps that are very progressive.
By virtue of it containing such advanced tech traits, your overall mobile app business operation in real-time would be much more productive in your individual marketplace. As a result, it automatically brings a vast amount of return of investment (ROI) shortly from business launching.
Even though it has all advanced built-in features, it is a fully editable script that offers a 360-degree customizing solution for you. Therefore, as an entrepreneur, you can smartly execute your own plan and view regarding your new mobile app interface output.
And, in your preparation of business planning, you can also use experts from your selective developer side. Most of the Uber for X ready-to-move app developers in the market offer this best choice for their clients' additional knowledge on their respective business models.
The Gainful Business Model Focusing on 2020 Digitized Market Era
Not only in the on-demand startups but also for any business initiations whether offline, considering existing market scenarios is much more important. As well, while focusing on future growth too for your selective business model ensures its sustain in times lucratively. Taking this into account, the following Uber for X businesses for the existing and upcoming years would be gainful to your startup today.
Doctor Booking
In recent days particularly after the pandemic, people are so cautious about avoiding crowds in any circumstances. This makes doctor booking apps very useful for patients to smartly book appointments for consultations. And, the app-based on-demand service industry today rose to the top in the digitized market.
Handyman Booking
As well, one of the topmost well-growing on-demand service industries in the global market is handyman booking online. The easiest way to call professionals/engineers such as wiring men, gardeners, carpenters, AC mechanics, plumbers, housekeepers, etc. through a simple mobile app is by possessing heavy market evolution predictions as per research.
Towing Service
In busy people's routine workflow scenarios, the role of vehicle transports in their day-to-day lives is so important nowadays. What if they stuck anywhere on the roadsides while going to the office? And this is where the notable success of on-demand towing services via app-based platforms stands online. Considering it, your startup in the same market would be beneficial.
Laundry Booking
Above all, the on-demand laundry booking service online has its unique market growth and high market value expectations in the real-time business area. Following, your new startup in the laundry service marketplace not only will be lucrative in the present but will extend to the future era with the greatest sustain amongst rivals.
How You Can Build Your Business App So Engaging Among Rivals?
Along with these discussed, it is also important for the on-demand businesses to launch new mobile apps as progressive as on respective service operations. In which, the following enhanced in-app features must be available in your business app of any kind of business model from the listed. Therefore, your business would be so engaged online.
Fast User Onboarding – App must be integrated into social media. So that your business app users can log on rapidly.
Assignment Scheduling – The customers should be able to set their preferred time slot on when the service handler should present at a particular location for services.
Easy Payment Mode – Be sure your new app comes with different payment sections online and offline. As well, build your app accepted multicurrency support.
Real-time Tracking – Enable GPS mapping system in your business app. So the delivery personality or service handlers can reach the customers on time following live route map indication.
Customer Reviews – Ensure your new app allows the customers to put their ratings and reviews online regarding service experiences.
On/off Toggle – Enable the on/off toggle button in your new business app. Therefore, the service handlers could smartly update their availability status online.
Dedicated Admin Dashboard – Ask your developer whether your admin panel acquires advanced technology solutions. When there, it would be so dedicated to business management details.
To Conclude
On-demand online business startups today have become so popular amongst entrepreneurs in the modern era. It is all forecasting digital platforms' gigantic growth between consumers around the world. By the way, your new startup while focusing on a better marketplace and its future and market value, the discussed Uber for X models would be clever for you.
About Post Author